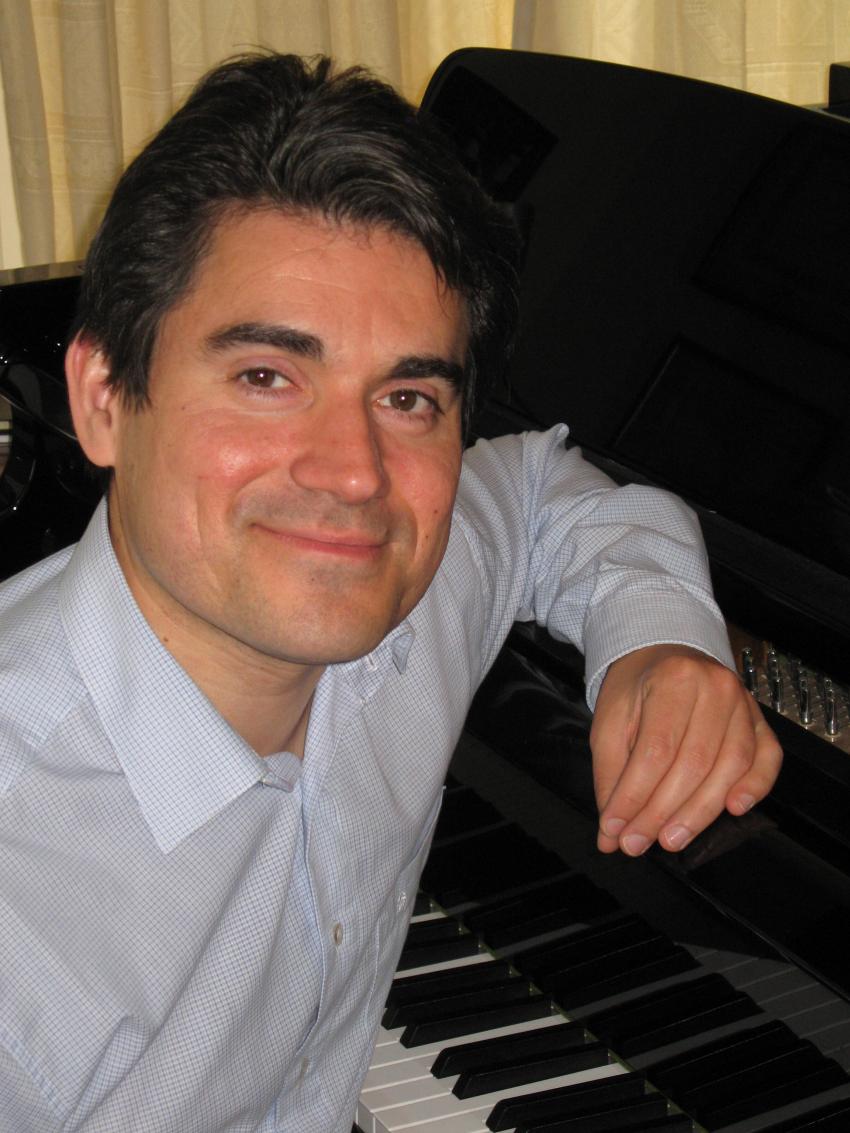 VINCENT GHADIMI KHORASSANI,
pianist , composer
Vincent Ghadimi took his first private music lessons at the age of 15 with the composer and choirmaster Walter Vandorpe. He then began his musical studies at the Academy of Schaerbeek where he studied piano with Leonardo Anglani. He then followed courses in music history (Henri Vanhulst) and music theory (Etienne De Lombaert) at the Koninklijk Conservatorium van Brussel.
At the Royal Conservatory of Brussels he obtained the first prizes in piano (Jean-ClaudeVanden Eynden) and chamber music (Serge Bémant), as well as the Superior Diploma of Solfeggio of specialization (Michel Lysight).
At the Conservatory of Rotterdam he obtains in the Class of Aquiles Delle-Vigne the diploma of Master of Music for piano and chamber music with great distinction as well as a specialization in piano 4 hands and two pianos with Nelson Delle-Vigne Fabbri. He then studied with Nelson Delle-Vigne Fabbri for 3 years at the Ecole Normale Alfred Cortot in Paris and also attended Masterclasses with Lazar Berman, Zoltan Kocsis, Andrei Nikolsky, Peter Eicher...
He also attended various training courses in Mannheim, at the Mozarteum in Salzburg (3 consecutive years), at the Summer Festival in Flaine, at the Ecole Normale Alfred Cortot in Paris and at Braine l'Alleud (Music-A Briane-L'Alleud) where he became the assistant of Nelson Delle-Vigne Fabbri.
Fascinated by the teaching of the conductor Sergiù Celibidache, he followed the Phenomenology of Music courses with his assistant Konrad von Abel. It is in this spirit that he will give a "performance" in a Catholic college (Sint-Jozef) in Sint-Niklaas in 2009 within the framework of "The Milena Principle", an organization of which he was a member.
Vincent Ghadimi also holds two first prizes in international piano competitions (1993: Rotterdam "Doelen", 1995: Spain "Ibiza international piano competition").
His piano recitals have earned him the highest praise from the music press.
(« ... ample gesture, elastic touch, impressive dynamics, it offers a solidly constructed music ... "Martine Dumont-Mergeay , La libre Belgique ; " an exceptional pianist " Ouest France).
In 2005, he created with his wife, the harpist Cécile Marichal, the Duo Polyface which regularly performs in concert (Atelier de la Dolce Vita, Atelier Marcel Hastir, Auditorium Maene, Auditorium Hanlet, Centre Culturel les Chiroux, L'Heure Musicale, Festival at the Château d'Attalens in Switzerland...), exploring the little known repertoire for piano and harp, as well as the solo repertoire of these two instruments.
Parallel to his career as a pianist, he composes numerous works:
" Initiation to contemporary deciphering " solfeggio lessons imposed in 1992 at the Royal Conservatory of Brussels for the specialization diploma in solfeggio.
"Opuscule" for instrumental ensemble (first performance in 1992 at the Royal Conservatory of Brussels).
"Nutations" for clarinet and piano (ed Alain Van Kerckhoven and recorded by Ronald Van Spaendonck and Leonardo Anglani for René Gailly)
" Jongleurs de Têtes " for piano solo written for the Orleans Competition 2002 (played by Marina Scalafiotti) and obtains in its second version the Honorary Diploma at the TIM Competition 2006, dedicated to Roberto Plano.
The second version of "10 Songs for Children" (in Dutch) is a piano-singing version (published by Lantro Music) based on texts by Henk Pringels.
" Mémoires d'enfance " for piano (premiere at the Festival de musique belge contemporaine 2006) Dedicated to Benjamin Rawitz, ed.Lantro Music
"2 Preludes" for piano dedicated to Nelson Delle-Vigne and Cécile Marichal (ed.Lantro Music)
"Toccatine" for piano dedicated to Jan Michiels (imposed work 2006 in T5 at the Academy of Uccle) ed.Lantro Music
"Toccata" for harp, dedicated to Cécile Marichal, ed Lantro Music
"Zoo" pedagogical work for the harp (of which "Lions" is a compulsory work 2008 by the DKO for the lower degree in all Flanders) ed.Lantro Music
"Circus" pedagogical work for piano (for lower and middle grades) ed Lantro Music
"Petite Suite Antique for flute and harp" (Prélude-Sarabande-Menuet-Gigue) Played by Sophie Hallynck and Denis-Pierre Gustin
"Cheese-Impromptu" for harp and piano
"Pop Corn" for string orchestra, dedicated to the ensemble désafinado, conducted by Gabriel Laufer.
" Verd 'Ivresse' " for violin and piano, dedicated to the Gemini Duo.
"Fantomas" quasi-sonata fantasy for cello and piano (inspired by the work of the poet Ernst Moerman), world premiere in Mexico, November 2014 (then in Bucharest) by the duo Florescu-Fernandez.