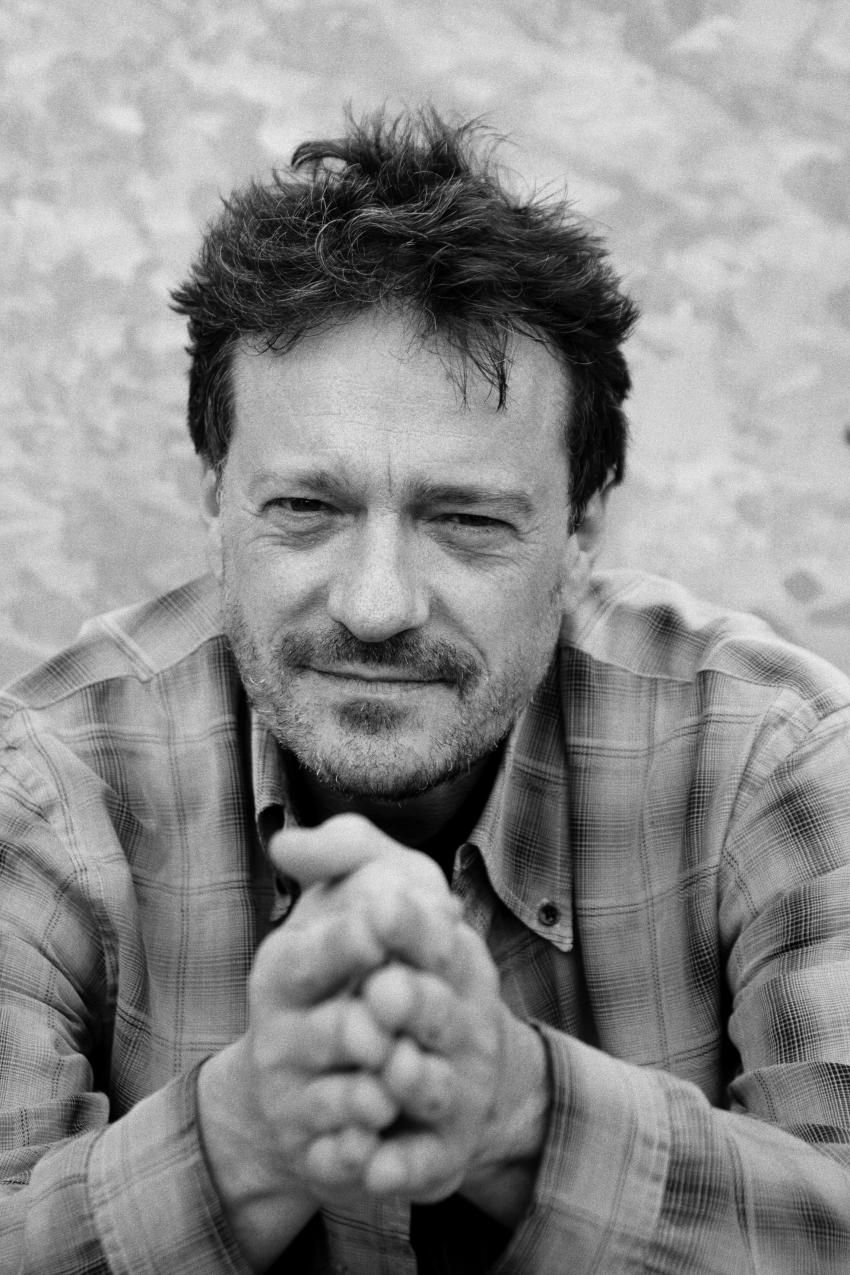 Thierry De Mey, born in 1956, is a composer and filmmaker. An instinctive feel for movement guides his entire work, allowing him to tackle and integrate a variety of disciplines. The premise behind his musical and filmic writing is the desire for rhythm to be experienced in the body or bodies, revealing the musical meaning for the author, performer and audience. He has developed a system of musical writing for movement used in pieces where the visual and choreographic aspects are just as important as the gesture producing the sound, such as in Musique de tables (1987), Silence must be! (2002) and Light Music, which premiered at Lyon's Musiques en Scène biennial festival in 2004.
A large part of his music production is intended for dance and cinema. He has often been more than a composer for the choreographers Anne Teresa De Keersmaeker, Wim Vandekeybus and his sister Michèle Anne De Mey, offering his precious collaboration in the invention of "formal strategies" – to use a favourite expression of his. Among his main work let us mention Rosas danst Rosas, Amor constante, April me, Kinok (choreographies by A. T. De Keersmaeker), What the body does not remember, Les porteuses de mauvaises nouvelles, Le poids de la main (choreographies by W. Vandekeybus), Dantons Töd (dir. Bob Wilson), Musique de table, Frisking for percussion, a string quartet, Counter Phrases, etc.
He participated in the foundation of Maximalist! and the Ictus ensemble which created several of his pieces (dir. G E Octors). He was resident artist at Fresnoy in 1998 and resident composer in Strasbourg at the Musica festival in 2001 and 2002, as well as the central figure at the 2004 Musique en scène festival in Lyon. His music has been performed by major ensembles such as the Arditti Quartet, the Hilliard Ensemble, London Sinfonietta, Ensemble Modern, Muzikfabrik and the Orchestre Symphonique de Lille. Thierry De Mey's installations, in which music, dance, video and interactive processes work together, have been presented in events such as the Venice and Lyon biennials as well as in many museums. His work has received national and international awards (Bessie Awards, Eve du Spectacle, Forum des compositeurs de l'Unesco, FIPA, etc). He also gives workshops, conferences, summer courses and composition courses. Since the foundation of PARTS, he has been the director of the choreographic composition programme ; several of his students have acquired an international reputation. The film/installation Deep in the wood (2002-2004) involved more than 70 dancers/choreographers. For the film Counter Phrases (2003-2004), nine composers answered his dance/film invitation : S. Reich, F. Romitelli, M. Lindberg, T. Hosokawa, G. Aperghis, J. Harvey, L. Francesconi, R. De Raaf and S. Van Eycken. In 2003, the working process with ATDK for April me was the subject of a documentary entitled Corps accord, produced by ARTE which has also broadcast and co-produced most of his films.
Since July 2005, Thierry De Mey is artistic director of Charleroi/Danses along with Pierre Droulers, Michele Anne De Mey and Vincent Thirion.
http://www.charleroi-danses.be/index.php?option=com_flexicontent&view=items&cid=33:artistes-associes&id=589:thierry-de-mey&Itemid=115&en

In 2006, he realised an installation adapted from Perrault's tale, Barbe Bleue (Bluebeard), plus a film, One Flat Thing, reproduced based on the choreography by William Forsythe and broadcast by Arte in October. In 2007 he made From Inside for the Charleroi/Danses Biennale, an interactive installation in the form of a triptych. For the 2009 Charleroi/Danses Biennale, he created Equi Voci, a polyptych of dance films accompanied by orchestral music and which includes Prélude à la mer, a film based on one of Anne Teresa De Keersmaeker's most beautiful choreographies which he shot by the Aral Sea in October 2009. He is currently working on another dance film – La Valse, choreographed by Thomas Hauert and the ZOO dance company – to complete this project.
Finally, his latest installation, Rémanences, is being made with a thermal camera in Belgium and France in March 2010 as part of the VIA and EXIT festivals.