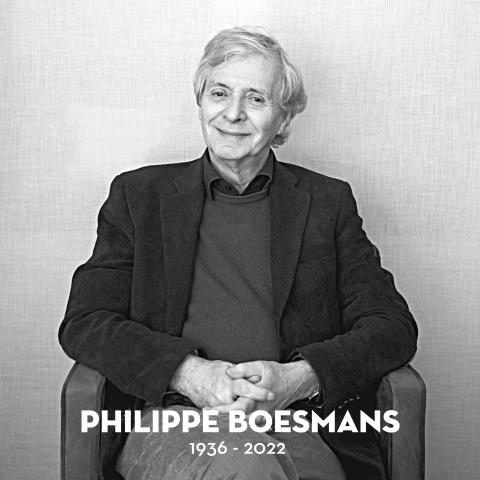 The Composers' Forum thanks Martine Mergeay and the daily newspaper La Libre Belgique for having authorised us to reproduce the article below, published on 12 April 2022, concerning the death of Philippe Boesmans, honorary member of our association. 
Philippe Boesmans has slipped into another world
With his last opera barely finished, the composer died on Sunday evening at the age of 85.
His relatives announced it on Sunday night: Philippe Boesmans died on the evening of April 10 of a sudden respiratory decompensation. With this love of life that had never left him, he had been coping for several years with a tenacious cancer, he fought without complaining, he continued to move forward, to compose, to dream with his friends. Even the fire which, in 2021, had ravaged his flat and everything in it - including his piano and a few precious pages from his last opera - had not affected his calm courage, his detachment, his humour. This time he had to give in. It is a giant of 20th and 21st century music who is leaving us, taking with him the image of an eternal young man, free, funny, modest and brilliant.
Free electron and visionary
Philippe Boesmans was born in Tongeren on 17 May 1936 into a large and loving family. A gifted and curious musician, perfectly bilingual, he undertook his higher studies at the Liège Conservatory, beginning with piano; but it was "on the job" that he gradually turned to research and composition. At the end of the 1950s, he frequented the circle of Henri Pousseur, then director of the Liège Conservatory and a leading figure in avant-garde music in Europe, and was hired at the Centre de Recherches Musicales de Wallonie, a sort of IRCAM on a Belgian scale. In 1962, he joined the Ensemble Musique Nouvelle as a pianist and became a producer at RTB. So this was not the dazzling career of a gifted genius but rather the organic, quasi-familial installation of a free electron - but already a visionary - within an artistic environment that was to give him the best before he himself became its leader and acquired the worldwide fame we know today. However, his family side never left him, naturally extending to La Monnaie from the 1980s.
A decisive lyricism
In 1971, Upon La Mi, for soprano, horn and ensemble, suddenly revealed an accomplished composer (Prix Italia), with a personal, sensual, lyrical tone, at odds with the zeitgeist, despite its scholarly form and its apparent submission to post-Webernian rules. With this piece, Boesmans' music was already entering people's hearts. There were other magnificent instrumental pieces, notably for the organ of his friend Bernard Foccroulle, but, thanks to the invitation of Gérard Mortier, it was his entry into La Monnaie as composer-in-residence that decisively determined his international career. In 1983, the premiere of La Passion de Gilles, on a libretto by Pierre Mertens, was experienced as a historic event, the opera declared dead by Pierre Boulez suddenly taking on a new life and relevance. This was followed by Reigen, based on the play by Arthur Schnitzler (1993), which entered the great operatic repertoire, Wintermärchen, based on Shakespeare (1999), and Julie (2004), based on the play by August Strindberg, each time in collaboration with Luc Bondy, who also wrote the libretto. In co-production with other major opera houses, these were followed by Yvonne, Princess of Burgundia (Opéra-Comique, 2009), Au Monde (2014) and the miraculous Pinocchio (Aix-en-Provence, 2017), the latter two in collaboration with Joël Pommerat. All this under the direction of 'brother' conductors, led by Sylvain Cambreling and the late Patrick Davin.
Throughout this period, without holding any teaching posts, Boesmans was a model for countless composers, and a master for a privileged few, including Benoît Mernier, Renaud De Putter and Kris Defoort, always in the family, simply, without counting the cost.  
At his last press conference, Peter de Caluwe announced the creation of his new opera, On purge bébé, inspired by Feydeau's farce, which the composer was finalising with director and librettist Richard Brunel. The man affectionately called Fifi by his friends and family will (perhaps) not see the creation of his ultimate farce.
Martine Mergeay
Read: Philippe Boesmans, an inventor of 21st century opera by Serge Martin - Vers l'étrangeté ou l'opéra selon Philippe Boesmans by Cécile Auzolle