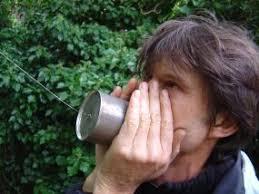 Born in Brussels, 1958, Berthet studied percussion at the Brussels Conservatory during the 1980s, spending a great deal of time in a bell tower, learning carillon and listening to its sounds. Studying with Garrett List (improvisation), Frederic Rzewski (composition) and Henri Pousseur (music theory) at Liège Conservatory in the nineties encouraged him to continue to pursue various avenues that have been of interest since early childhood, like throwing objects on the ground, shaking them, hitting them, and caressing them to hear what sounds they produce. Sounds of water drops falling on various materials was always fascinating to him, and slowly he started to lengthen various objects and instruments with long steel wires connected to can resonators suspended in the space, probably influenced by the works of people like Alvin Lucier, Terry Fox, Paul Panhuysen. Berthet also benefited enormously from the years playing with Arnold Dreyblatt's Orchestra of Exited Strings, and by duetting with Frederic Le Junter. Since the nineties he has exhibited indoor and outdoor sound and visual installations. Adapted specifically to each exhibition place, they also constitute materials for live performances. Around 2000, he started exploring various ways of making music with inverted Filter Queens vacuum cleaners ("They don't suck, they blow"). In 2010, he began performing a piece by Tom Johnson for 5 sounding pendulums: "Galileo", and in 2012 he started to shake dead plants mechanically. Thanks to Rie Nakajima, he discovered the use of batteries so that the motors, now free from cables, not only shake the plants but also move them at times in the space (auto-mobiles). Since 2013 he has been playing with Rie in "Dead Plants and Living Objects".
Studied percussion with André Van Belle and Georges-Elie Octors. Improvisation with Garrett List. Composition with Frederic Rzewski. Music theory with Henri Pousseur.
Played percussion for about 8 years in the nineties with Arnold Dreyblatt's "Orchestra of excited strings" (C.D. "Animal magnetism", label Tzadik ; C.D. "The sound of one string", label Table of the elements).
Personnal CDs : 

 "Un cadre de piano prolongé", label Sonoris 

 "Two continuum pieces", label Sub Rosa 

 "Extended loudspeakers", label Sub Rosa
Duets with Fr. Le Junter 

 Festival Musique Action, Nancy 

 Festival Densités, Verdun 

 ...
Other (very) occasional but pleasant collaborations in the past: 

 Manu Holterbach et Sophie Durand (Festival Why Not 2004, Dijon) 

 Pierre Bastien (Centre Pompidou, festival Octopus 2005) 

 Xavier Charles (Festival Musiques de rues 2006, Besançon)