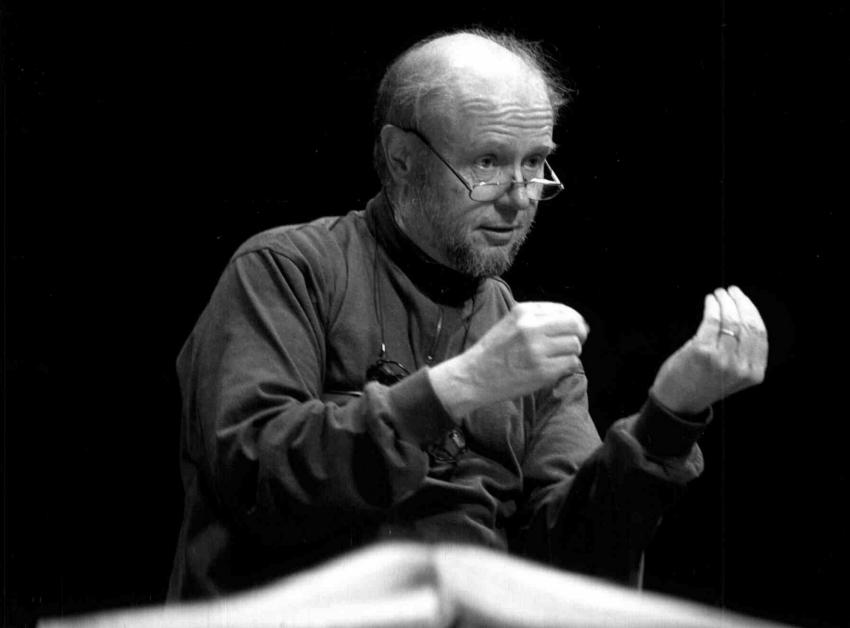 Pierre Bartholomée was born in Brussels in 1937. He began studying the piano at the age of six. He is a laureate of the Royal Brussels Conservatory, where his piano teacher was André Dumortier and where he won many prizes, including an advanced piano diploma and two special prizes, the Joseph Darche Prize and the Raymond Bernard Prize. In Italy he followed a series of Beethoven piano performance classes given by Wilhelm Kempff.
He is, with Henri Pousseur, a founder of the Ensemble Musique Nouvelle and of the Centre de Recherches et de Création Musicales de Wallonie. After embarking on a career as pianist that enabled him to give recitals, perform with orchestra and play chamber music in Belgium, France, Germany, Switzerland and Spain, he took the Ensemble Musique Nouvelle not only to the main cities of Belgium but also to many European festivals (Avignon, Paris, Amsterdam, Warsaw, Madrid, Belgrade, Zagreb), performing in addition for many radios (BBC, Radio France, Radio Suisse Romande, WDR, Danish radio, etc.) and television companies, while being a producer for the musical services of Belgian television (RTBF). He subsequently devoted thirty years of his career to orchestral conducting, conducting many Belgian, Dutch, French, Italian, Swiss, Austrian, German, Norwegian, Finnish, Spanish and American orchestras, and for twenty-two seasons he directed the Orchestre Philharmonique de Liège.
Invited all over Europe, America and Japan to perform a very broad repertory (from Purcell to Boulez, from Bach to Messiaen, from Haydn to Pousseur – via Mozart, Beethoven, Schumann, Brahms, Liszt, Wagner, Strauss, Mahler, Franck, Lekeu, Tournemire, Stravinsky, Bartók, Varèse, Schönberg, Webern, Stockhausen, Berio, Höller, Xenakis, Boesmans, Goeyvaerts, Leduc, Rihm, Lutoslawski and many others), collaborating with great soloists (Arthur Grumiaux, Yehudi Menuhin, Leonid Kogan, Frank-Peter Zimmerman, Boris Belkin, Nikita Magaloff, Yvonne Loriod, Elisabeth Leonskaya, Shura Cherkasky, Martha Argerich, Christian Zacharias, Hélène Grimaud, Jessye Norman, Barbara Hendricks, Montserrat Caballé, José Van Dam, Narciso Yepes, Heinrich Schiff, Janos Starker, Paul Tortelier – to mention but a few) and making many notable radio and discographic recordings – amongst which may be mentioned a Prix Charles Cros, a 'Victoire de la Musique', a Koussevitzky Prize and two Cecilia Prizes, Pierre Bartholomée has also favoured, in his programmes, the performance of new works, the diffusion of the music of his compatriots and support for young artistes. His personal catalogue notably includes two operas, two oratorios, six works for large orchestra, chamber music, vocal music, instrumental pieces and electronic music. Most of these works have been performed, some in the great international centres for music (Paris, Berlin, Amsterdam, Washington, Montreal, Quebec, Geneva, etc.). The oratorio Ludus Sapientiae, composed to a text by François Jongen on the occasion of the 575th anniversary of the foundation of the University of Louvain, was given its first performance in 2001 in the Grande Aula of Louvain-la-Neuve, conducted by Jordi Savall, and was also performed in Brussels on 10 June 2007 conducted by Jean Tubéry.
La Monnaie has commissioned two works from him, inspired by Henry Bauchau: Le Rêve de Diotime, a dramatic scene for soprano and chamber orchestra, first performed in 2000 and revived in 2002, and Œdipe sur la route an opera in four acts, first staged in March 2003 in a performance conducted by Daniele Callegari with stage direction by Philippe Sireuil, and with José Van Dam in the title role. Having for several years taught musical analysis at the Royal Brussels Conservatory, Pierre Bartholomée was composer in residence at the Catholic University of Louvain (UCL) where he was guest professor and where he set up and for three years ran an inter-faculty composition workshop. One of his recent works, Fragments des Belles Heures, a song cycle for soprano and small instrumental ensemble, with texts by Liliane Wouters, was premiered in Brussels at the instigation of the UCL. It was part of the programme of a monographic concert given on 1 June 2007 at Sichuan Conservatory (China). His 13 Bagatelles for piano and his String Quartet were given first performances in Brussels in March 2004. The String Quartet subsequently featured in the programmes of several concerts in Germany. His Sonata for viola and piano was performed several times in 2004, Pentacle for eight instruments, commissioned by the Nouvel Ensemble Contemporain, was premiered in Switzerland in late January 2005 and All days are nights (two visions of Shakespeare's Sonnet XLII), for female voice, flute, cello and piano, was incorporated into a music-poetry production and was published in a CD/book by Éditions Esperluète.
In 2006 a Passacaglia for marimba and live electronics, a commission from the Centre de Recherches et de Formation Musicales de Wallonie, was first performed in Liège and later performed in Brussels, at the Ars Musica Festival, as well as in Leuven, in the "De nieuwe reeks" series, and then, in the Espace Garage concerts in Ottignies, further performances of 13 Bagatelles, Fragments des Belles Heures and of the String Quartet, the premiere in Brussels of Histoire d'un caillou, three songs for soprano and piano to a short poem by Henry Bauchau, the composition of 7 x 7 for 7 concertante instrumentalists, a commission from Ars Musica (the first performance taking place in March 2007), and the completion of two large-scale works, a Requiem, first performed in Brussels in November 2007 and a new opera, La Lumière Antigone with a libretto by Henry Bauchau, to be given its world premiere at La Monnaie in April 2008. Oraisons for cello, the first piece to be composed in 2007, was premiered in Paris on 5 May 2007.
His current projects include: a new piece commissioned by the city of Maastricht for the ensemble 88, a Quintet for clarinet and string quartet and a Sonata for piano and violin. The record labels Cypres and Igloo have issued recordings of most of Pierre Bartholomée's symphonic works as well as a large part of his chamber music output. The latest release was a box-set of two CDs collectively entitled Ex abrupto, produced by Cypres in the spring of 2007. Several of his discs have won many awards from the international musical press ('Choc' from Le Monde de la Musique, 'Joker' from Crescendo, etc.).
Pierre Bartholomée is a member of the fine arts division of the Royal Belgian Academy. He has on several occasions presided the jury of the Antonio Pedrotti International Orchestral Conducting Competition in Trento (Italy) and has been a member of juries for the Queen Elisabeth Competition (Brussels), the Gaudeamus Competition (Hilversum), the Queen Marie-José Composition Competition (Geneva), the Composition Competition of the International Besançon Festival, the Geneva International Piano Competition and the International Saxophone Competition of Dinant. His works are published by Universal (Vienna), Salabert and Jobert (Paris), Cebedem (Brussels) and Quindicesima (Valenciennes).