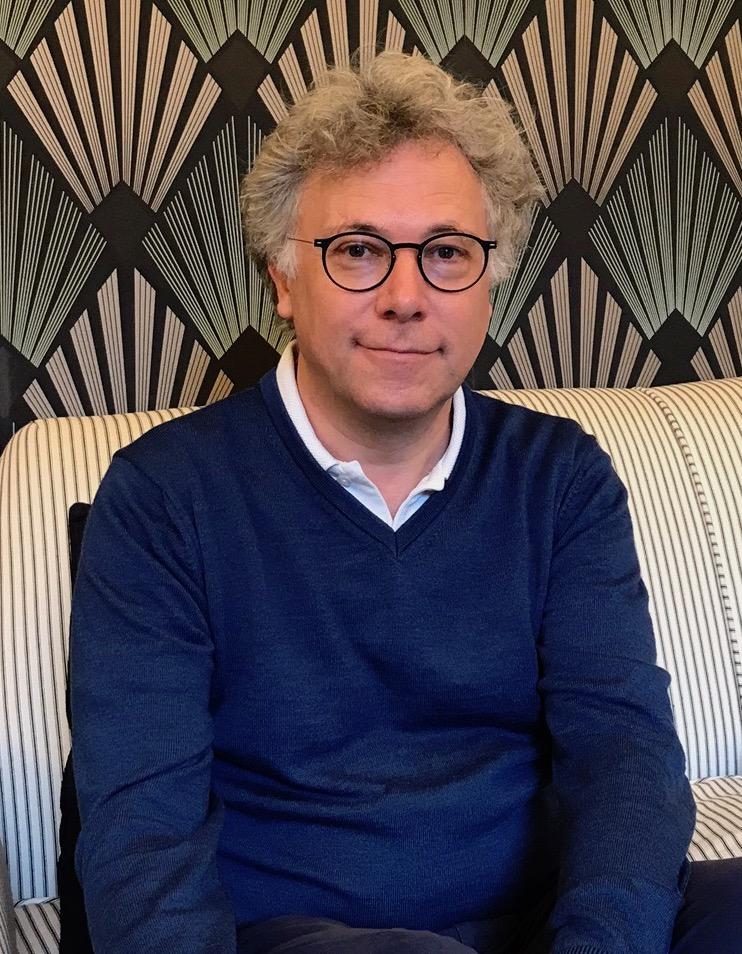 Benoît Mernier was born in Belgium in 1964. He lives and works in Brussels.
He started playing the organ with Firmin Decerf and then studied at the Royal Conservatory of Liège where he won several First Prizes and the Superior Diploma of organ in the class of Jean Ferrard, whose assistant he was for several years at the Conservatories of Liège and Brussels. He then perfected his skills for two years with Jean Boyer.
He discovered contemporary music in Liège, in contact with Claude Ledoux, Henri Pousseur, Bernard Foccroulle, Célestin Deliège and Philippe Boesmans with whom he then worked on composition.
Benoît Mernier devotes part of his time to the organ as a performer and teacher. He performs as a soloist in Belgium and abroad (in Europe, Canada, Mexico and Japan). He has made several recordings, one of which was awarded the Grand Prix de l'Académie du disque Charles Cros. His repertoire ranges from early music (17th and 18th century) to romantic music and contemporary works.
His works have been performed and often premiered at festivals such as Ars Musica, Présences, Wien Modern, Gaudeamus, World Music Days (ISCM), Prague Premieres, and have been performed by renowned musicians and ensembles: Michaël Schönwandt, Bertrand de Billy, Ronald Zollman, Patrick Davin, Paul Daniel, Lorraine Vaillancourt, Pascal Rophé, Andrey Boreyko, Ernesto Martinez-Izquierdo, Georges-Elie Octors, Jonas Alber, Pierre Bartholomée, Filip Rathé, the Arditti Quartet, the Ensemble Modern, the Nouvel Ensemble Moderne, the Danel Quartet, the Trio Medicis, the Trio Fibonacci ; the ensembles Oxalys, Ictus, Musiques Nouvelles, Spectra, the Chœur de Chambre de Namur, the Orchestre du Théâtre Royal de la Monnaie, the Orchestre Philharmonique de Liège, the Orchestre National de Belgique, the Orchestre Philharmonique de Radio-France, the Vienna Radio Philharmonic, ...
Several of his works have been awarded prizes in Belgium and abroad: Artifices for organ in 1990 at the "International Rostrum of Composers" sponsored by UNESCO; Blake Songs for voice and chamber orchestra by the Royal Academy of Belgium in 1995. His Quintet with clarinet received the Prix Paul Gilson from the Communauté des Radios Publiques de Langue Française in 1999. His Five Inventions for organ were selected by the ISCM for the 2003 edition of its festival.
During the 2002-2003 season, Benoît Mernier was "composer in residence" at the Palais des Beaux-Arts in Brussels and at the Austrian festival Carinthischer Sommer 2004. The Queen Elisabeth International Music Competition commissioned him to write the compulsory work for the singing session in 2004. He was guest of honor at the Festival de Wallonie in 2008 where his Piano Concerto was performed by Cédric Tiberghien and the Orchestre Philharmonique de Liège Wallonie-Bruxelles under the direction of Pascal Rophé.
His first opera "Frühlings Erwachen" after F. Wedekind on a libretto by Jacques De Decker, was commissioned by the Théâtre de la Monnaie in Brussels where it was premiered in March 2007 in a production by Vincent Boussard. A French premiere took place at the Opéra du Rhin in September 2008. In 2015, this opera is the subject of a new production by the International Opera Academy under the direction of Filip Rathé and staged by Guy Joosten.
Cyprès [www.cypres-records.com]. has published several discs of his works, including a CD/DVD set of his opera which was awarded a Diapason d'or.
A book published by Mardaga has been dedicated to him ("L'Eveil du Printemps, naissance d'un opéra").
La Dispute, a second opera commissioned by La Monnaie, was premiered there in March 2013 in a staging by Karl-Ernst and Ursel Herrmann in collaboration with Joël Lauwers. It is published by Durand (Universal Music Publishing Classical). He was commissioned by the Koussevitzky Foundation and the U.S. Library of Congress to write a new work for the Pro Arte Quartet, which was premiered in the U.S. in March 2014 and is the subject of a recent recording release. His Violin Concerto written for violinist Lorenzo Gatto and the commissioned Belgian National Orchestra was premiered in February 2015.
The recording of his recent Pange lingua for organ, released by the German label Aeolus, won a Diapason d'Or. His two concertos were also released on Cyprès in 2016.
Translated with www.DeepL.com/Translator (free version)