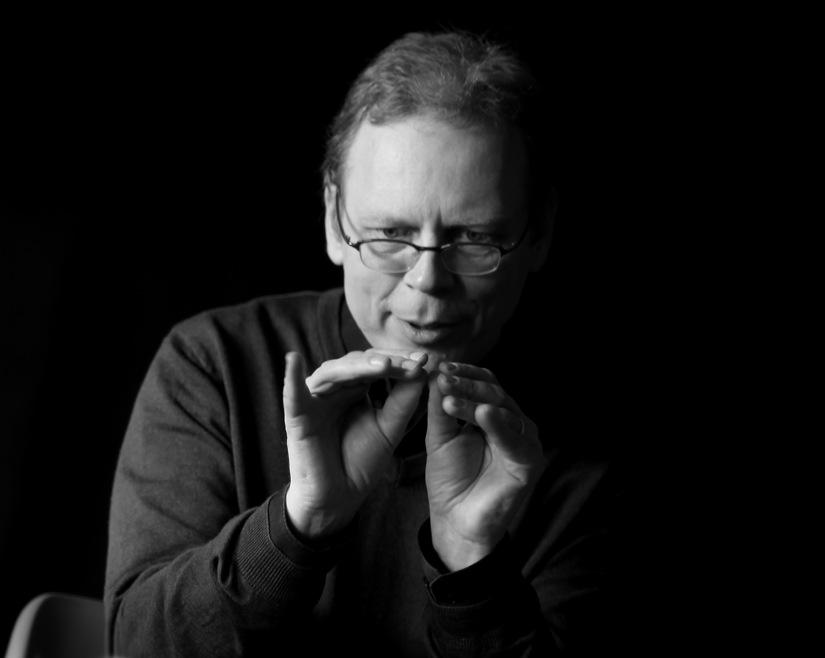 Claude Ledoux's pieces show an approach calling on musical synthesis in order to express within his compositions the many qualities of our fragmented world. The fascination exercised by the phenomenon of sound has incited the composer to acoustical introspections, helped by recent technology, computer programmes and sound synthesis (echoes of electronic music researches made at the studios of Liege and those of Ircam). His interest in popular music and Eastern music led him to think about the relationship between performer and instrument through gestures and musical incarnation. Furthermore, his love for the sounds of the world encouraged him to make field researches in Eastern countries (India, Cambodia, Vietnam, Indonesia, Vietnam and Japan) and also in South-America, in order to learn their traditional art of music. Then, the musical work of Claude Ledoux synthesises these different elements in a luxuriant environment with the desire to renew the phenomenon of melody, a place where emotion comes from the meeting of different imaginary cultures.
As a composer he won several competitions (Lille, Paris, Lausanne...). In 2003 he received the prestigious Ranieri Foundation of New York Fellowship. His music has been performed in the main towns of Europe as in America (Colorado Orchestra, Symphonic Orchestra of Montreal...) or Asia (Turkey, Vietnam, China, Japan). These last years, Claude Ledoux was composer in residence at the Ensemble Musiques Nouvelles, at Castello di Civitella (Italy), at the  Kitara Hall of Sapporo (Japan), at Brussel's « Bozar »... In 2009, he composed the compulsory work (semi-finale) for the Queen Elisabeth of Belgium Contest. After a commission from the French government which allowed him to write "A Terra Sem Mal" for the ensemble Le Balcon, he composed "Ayl", clarinet concerto, for the Ars Musica festival (soloist Jean-Luc Votano). In 2013, Claude Ledoux founded the LAPS Ensemble for which he dedicated his "Laps Suite" - still in progress (Laps Init 1.0 / Pls Ap Dowload 1.2 / Laps Upgrade 2.0 / J-Pop Laps / Laps Crash). In 2014 the Royal Philharmonic Orchestra of Liege, the Shanghai Sinfonietta and the Muromachi Ensemble of Tokyo premiered his music. In 2015, the CD "Fragmente" - with the first recording of his Notizen-Fragmente - won the prize of the Octaves de la Musique. Spring 2016, A Butterfly's Dream, for piano and orchestra, was premiered in the framework of the International Queen Elisabeth Contest. Autumn of the same year, Trois Itinérances was premiered at Tokyo and his S(hakuh)achi Kon(nzert) premiered at Ars Musica Festival. Recently, Noema - Saxophone concerto - was premiered at the Saxophone International Contest of Dinant 2019. Moreover, Tomoe, a « Rappresentatione » for Soprano, Baryton, Biwa and baroque ensemble, was performed at the Festivals de Wallonie (2020).

Some of his works are recorded on the labels Cyprès, Paraty, Harmonia Mundi, Sub Rosa, WBM. 
Claude LEDOUX is Professor of Music Analysis (composition and musicology department) at the Conservatoire National Supérieur de Musique de Paris (CNSMDP - France) and Professor of composition at Arts2 Mons (Belgium). He teached also as guest professor at the Sao Paulo University, the Campinas University and at Campos di Jordao Winter seminar  (Brazil - 2008/09), and in 2013/14 he was invited for lectures and master classes at the Shanghai Conservatory. In 2017/18, he was guest composer and professor at the occasion of the Crossroad Days in Armenia (Yerevan, Dilijan, Gyumri) and ReMusic festival (Saint-Petersburg-Russia). Member of the artistic board of the Festival Ars Musica for many years and its Artistic curator in 2012, he was also from 2002 to 2005, Artistic Director of the Centre Pousseur (electronic studio of Liege).
Since January 2005, Claude Ledoux is a member of the Belgian Royal Academy.